A Manager's Guide to Building Your Dream Team
Dec 9, 2022

11 min read

As the workforce continues to evolve, so must the strategies managers use when building their teams. Gartner found that 90% of HR leaders surveyed allowed employees to continue to work remotely following the pandemic.
Now companies are realizing that they no longer require employees to be on-site full time. And, the majority of employees prefer this type of flexible work environment. Companies must adapt and consider hiring more remote employees if they would like to tap into a larger pool of talented professionals. One way to do this is through hiring more on-demand professionals. Many large tech companies, like Google, are taking this approach by hiring more on-demand employees to help drive growth.
This manager's guide will show you how to build a dream team, comprised of both full-time employees and on-demand professionals. With this knowledge, you'll be able to create a bridge between these groups and build a positive and collaborative work environment, giving you the best of both worlds!
Let's get started!
What Does a Dream Team Look Like for You?
When assembling your dream team, it's important first to define what that looks like for you. Once you have a well-defined picture in mind, you can search for suitable candidates.
The steps you take to build your dream team will vary depending on your specific needs and goals. By taking the time to plan, you can ensure that your team has the skills and experience necessary to help your business thrive.
Important Considerations When Building Your Team
It's no shocker that the way we work is changing. The rise of contract work, its demand, and the ever-growing freelance market are all evidence of that.
But what does that mean for businesses? How can they adapt to this new way of working and still be successful?
By hiring both on-demand professionals and full-time employees, businesses can tap into a larger talent pool than they would otherwise have access to. This also enables them to acquire specific skills and expertise when and where they need them, without committing to a full-time hire.
So, how can you go about building your dream team?
Planning Your Dream Team
Determine Your Team Goals. Creating a roadmap of your team goals is the first step in building your dream team. It will help you to clarify what you're looking for in terms of skills and expertise, and will also make it easier to identify the right on-demand professionals to bring on board.
Here Are The Steps For Creating Your Roadmap:
Define your business goals: What are you hoping to achieve with your team?
Create team-specific goals: Once your business goals have been defined, break them down into specific team goals. For example, if a business goal is revenue growth, one of your team goals might include developing a new sales strategy.
Build a timeline: Now that you know your team goals, build a timeline for reaching them. This will help you track progress and ensure that everyone on the team knows what they need to accomplish.
Identify required skills: Next, outline the skills and expertise you need to achieve your goals. This helps identify the ideal professionals to add to your team.
Create a budget: Finally, create a budget for the team and allocate funds accordingly. This step ensures you have the resources you need to achieve your goals.
Make sure to define your company's mission, values and goals clearly. This ensures that you and your team will have something to rally behind, keeping everyone focused and on the same page.
Building Your Dream Team
The next step is building your team by hiring full-time employees, working with on-demand professionals, or using a professional hiring platform. Each option has pros and cons. Weigh them carefully before making a decision.
Hiring Full-Time Employees: The main advantage of hiring full-time employees is that they typically have a greater sense of loyalty to the company.
The downside is that full-time employees are more expensive and harder to find, especially after the pandemic. The future of work is a gradual shift to working remotely. In fact, in 2020, 41% of American workers were freelancers, an increase from 2013 by 13%.
Full-time employees may also require more training and onboarding before they're productive.
Working with On-Demand Professionals: The main advantage of working with freelancers is that they're usually less expensive overall than full-time employees. Most of the time, they get hired on a project-by-project basis.
This can be a great way to fill the skill gaps in your team and find the specific expertise you need to ramp up a project quickly.
The downside is that, generally, on-demand workers may not be as loyal to the company as full-time employees. If properly integrated into the team, you can create a positive culture for the on-demand professional in which they do feel a sense of belonging to the company, in turn fostering this loyalty and commitment to the company's success.
Use a professional hiring platform: Staffing agencies have always been a staple in the hiring world to help you find both contractors and full time employees. While they are effective in sourcing talent, there are some possible downsides.
Staffing agencies tend to stick to a more traditional staffing model. The industry was built at a time that is much different than now, which can result in less transparency, higher fees, and less access to freelancers.
Oomple's online platform allows hiring firms to work with skilled on-demand professionals who are directly matched to their job description, and allows them to communicate directly with these consultants through the app. This creates a quick, transparent and streamlined hiring process.
Hiring
Skills and Experience: You've already determined the skills and experience you need during your roadmap planning. No matter which of the options above that you choose, it's essential to take time to find the right people for your team. This means carefully screening candidates, conducting interviews, and checking references.
Diversity: It's also important to consider diversity when building your team. A diverse group of people will bring unique perspectives and ideas to the table, which is beneficial for problem-solving and innovation.
Company/Team Culture: What type of culture does your company want to create?
The company culture will play a role in determining which type of team you build.
Keep an open mind when interviewing candidates. The objective is to find people who are a good fit for your company culture and have the abilities and expertise you need to achieve your goals.
Onboarding: Once you've found the right people, it's vital to onboard them properly. Provide training and orientation, introduce them to the team, and ensure they understand the company's mission, values, and goals.
You should also provide ongoing support and feedback to help them succeed in their role.
Keeping Your Team Engaged
One of the most important things a manager can do is keep their team engaged and fulfilled. This means providing support and feedback and ensuring they feel valued and appreciated. According to studies, involved team members are 21% more productive, and absenteeism rates are 41% lower.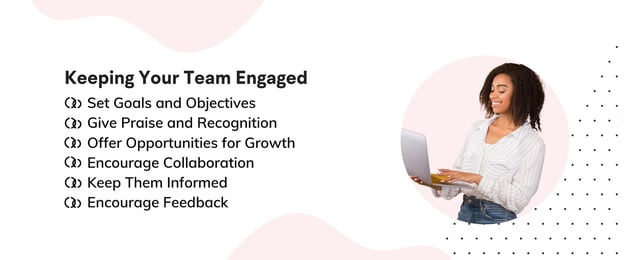 Not sure how to keep your team engaged? Here are six of our favourite methods:
Set Goals and Objectives: One of the best ways is to set goals and objectives for them to achieve. They'll feel like they are contributing to the company's overall success, making them more likely to stay focused and motivated.
Give Praise and Recognition: Another great way to engage your employees and on-demand professionals is by offering compliments and recognition for a job well done. Feeling appreciated and valued will boost their morale and motivation levels.
Offer Opportunities for Growth: This includes things like giving them a chance to learn workplace technology, take on new challenges, or work on special projects.
Encourage Collaboration: Encouraging collaboration is another method. It helps to foster teamwork and promotes creativity and innovation.
Creating a positive work environment where individuals feel comfortable sharing ideas and collaborating is important. Your team will work more effectively together and achieve greater results.
Keep Them Informed: Keeping your team informed about what's happening in the company can help keep them engaged and motivated too. Examples include sharing updates on goals, objectives, progress, successes, and other newsworthy items.
You can share this information through regular meetings, emails, or company newsletters. Whichever method you choose, ensure your team has the information they need to stay informed and up-to-date.
Encourage Feedback: Encouraging feedback is another excellent way of keeping your team engaged. Try soliciting their input on decisions, goals, and objectives. Feedback also means listening to their suggestions and taking them into consideration.
Feedback helps show your team that you value their opinion and are open to new ideas. It can also help improve morale and motivation while creating a more collaborative work environment.
Finding On-Demand Talent
The bottom line is that building your dream team takes time, effort, and planning. But it's worth it! A well-functioning team can help your business to achieve its goals and reach new levels of success.
Need to fill skill gaps missing in your team? Oomple is an expert at matching you with specialized on-demand professionals. With us, you can find talented freelancers with skill sets matched to your company's needs. Sign-up today and start creating your dream team!