How To Up-Skill As A Project Manager For More Growth And Opportunities
Dec 2, 2022

8 min read

Here's a scenario: You've been a project manager for five years and are eager to level up in your field. This means sprucing up your resume with in-demand skills and certifications. But where do you start, and how do you land the next dream job?
These days, project manager opportunities are endless. Since 2017, the demand has been skyrocketing and showing no signs of slowing down. Specifically, demand is expected to grow by 33 percent by the time 2027 rolls around, which equates to roughly 22 million new jobs. At Oomple, our goal is to fill this demand by connecting companies with skilled project managers. If you're a PM looking for new opportunities, we can help!
Why is this profession seeing such a surge? For one, 46 percent of organizations understand that project management processes make them run more smoothly and deliver work on time. Not only that, but 89 percent of organizations have at least one project management office in their organization, with 50 percent having more than one.
Many experienced project managers already know the industry is hot and are on the job hunt. But companies are searching for candidates with the desired top skills in the industry. Do all experienced PMs know what those are?
It seems like it should be easy to land a new role that's in such high demand, right? Especially if you have years of training and expertise. But to attract top opportunities and embrace the future of work, project managers need to nurture their skill set to stand out from the crowd.
Top Areas of Improvement
Don't make the mistake of thinking your experience is all you need to level up. Yes, the jobs are out there, but the expectations for PMs are also rising. Let's understand how you can improve not only your skill set, but your resume as well.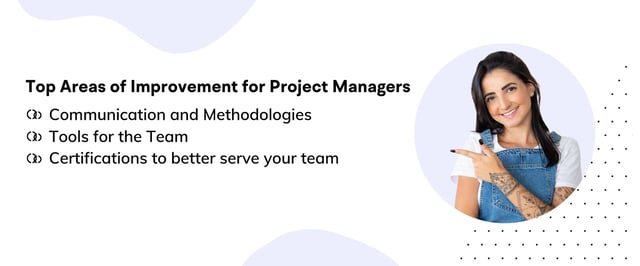 Communication and Methodologies
Agile
To make your resume stand out from the competition, you should show recruiters that you have expert knowledge of an agile workplace.
An agile workplace is all about flexibility and maintaining productivity in a modern, cohesive way, using strong communication skills. It may also involve investing in new workplace technology. An agile approach reduces the stress of meeting deadlines by avoiding the "big bang" project launch to deliver progress and work in smaller increments. This method allows teams to respond to change quickly, since all projects are constantly being evaluated.
In terms of communication skills, an agile workplace will adopt an open office concept rather than separating everyone into cubicles. Agile teams are about the sprint and not the marathon, completing work sections in two week intervals for evaluation and improvement.
Waterfall
The waterfall approach is the exact opposite of the agile approach, but it is a fundamental concept all project managers should highlight on their resumes.
It is a rigid and unrelenting methodology that shows hiring staff that you know what it takes to complete tasks. New phases of a project begin only when the last phase is finalized, differentiating greatly from the more fluid agile concept.
Part of having broad communication skills is knowing how to convey to your team members if you should use the agile or waterfall system. If a project is long and detail-oriented, you may need to instruct your team to revert to the waterfall method of conducting business.
Modernity aside, the waterfall approach is the most traditional method that emphasizes the importance of working linearly. And you want to ensure your resume displays a keen knowledge of the fundamentals of project management.
Tools for the Team
Trello
Here we have a list-making application software project managers should include on their resumes. Using their "card system," Trello is an excellent way to manage team projects and keep important data in the same place. This can be imperative for hybrid working environments where people work from home some days, and the team isn't always together.
Trello provides a basic board or card that you can expand upon as teamwork grows. It lets you manage projects and organize tasks while simultaneously building team cooperation and cohesiveness. Trello also gives you access to critical task assignments, calendars, timelines, productivity metrics, and more. All operations are automated and work with the simple click of a button, so there is no need to be a coding expert.
Basecamp
Basecamp is another project management software that shows your future boss that you have critical workplace technology skills. Their purpose is to simplify your daily life and not overcomplicate the process of completing a critical project.
Basecamp is essentially a real-time collaborative tool that helps team members stay in touch with one another. It is one of the most popular software applications for project management, with millions of global users. You can use it to start private chats, quickly jump between projects and teams with the search bar, create a schedule, and automate team check-ins for tracking progress.
Learning the ropes with both Trello and Basecamp will show hiring staff that you know how to assemble team members in the most effective way without causing them stress. Understanding both softwares demonstrates a keen sense of keeping your finger on the pulse and knowing what each team member is working on.
Certifications to Better Serve Your Team
These days, a university degree may only take you so far. For your resume to truly shine, consider completing additional project management certifications, such as:
What does the Future of Project Management Look Like?
The future for experienced and new PMs looks bright, albeit competitive.
It's becoming a top career choice amongst Americans and Canadians, and entry-level salary offerings can be generous at around $60,000.
More and more industries are also coming to terms with the fact that they need a project manager. Gone are the days when only IT industries appreciated talented PMs. These days, businesses in many industries such as finance, insurance, manufacturing, and more are posting job listings for project managers.
It's also an attractive career path because the room for growth is endless. You can double your salary with additional certifications and by collecting and mastering top skills. But as more and more people learn of the popularity of this profession and of its consistent demand, the need to hone your skill set becomes more pressing.
If you're a Project Manager looking for your next contract opportunity, you've come to the right place. At Oomple, we specialize in helping on-demand professionals find top contracts in their field.
Sign up today to grow your PM career!