Hiring on Oomple: The Simple Steps to Finding The Talent You Need
Aug 18, 2022

4 min read

So, you have a position you need to fill for an upcoming project and you want to post a contract position to find the best-suited talent.
Great! The Oomple Request page lets you easily input the role details, requirements, and project needs. These data points will match you to the top on-demand professionals.
Through our transparent platform, you'll have visibility of candidates in your hiring pool and where they are in the hiring journey. You'll then be able to review candidates easily and move forward with your top picks.
Let's go through the 3 simple steps you need to take to create your talent request!
1. Join or create an Organization
After you've signed up as a company and confirmed your email, you'll be prompted to create or join an organization. Click on the button to get started.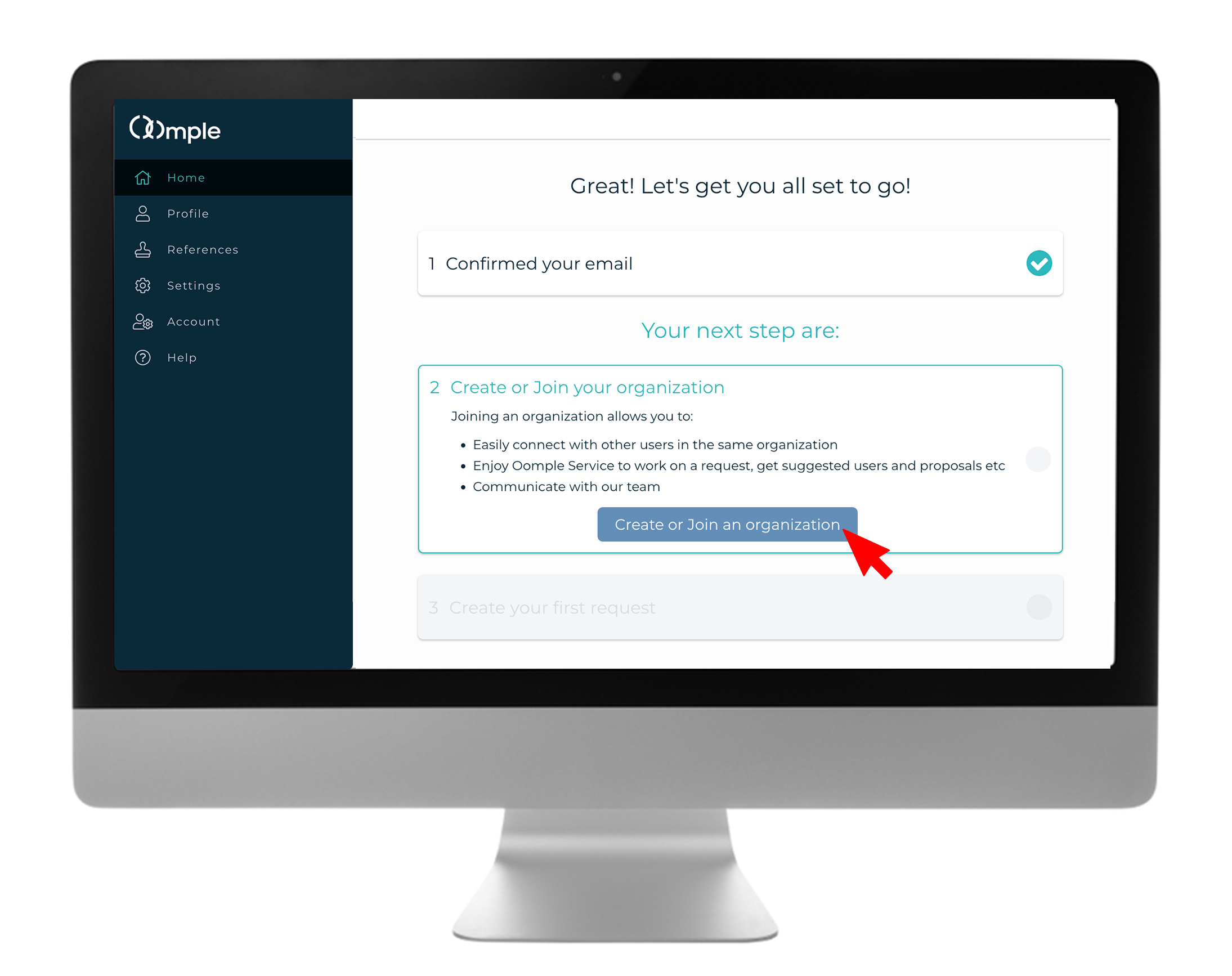 If your organization is already registered on Oomple, you'll be able to search it and request to join. Once you've been accepted, you'll have access to creating or reviewing job requests within your organization.
If your organization is not yet registered on Oomple, it's no biggie. Simply click on the "Create" button to get started. You'll then fill out your company information and bio. You can also invite your current team members so that they can join in on the fun (creating requests) or help you with the process.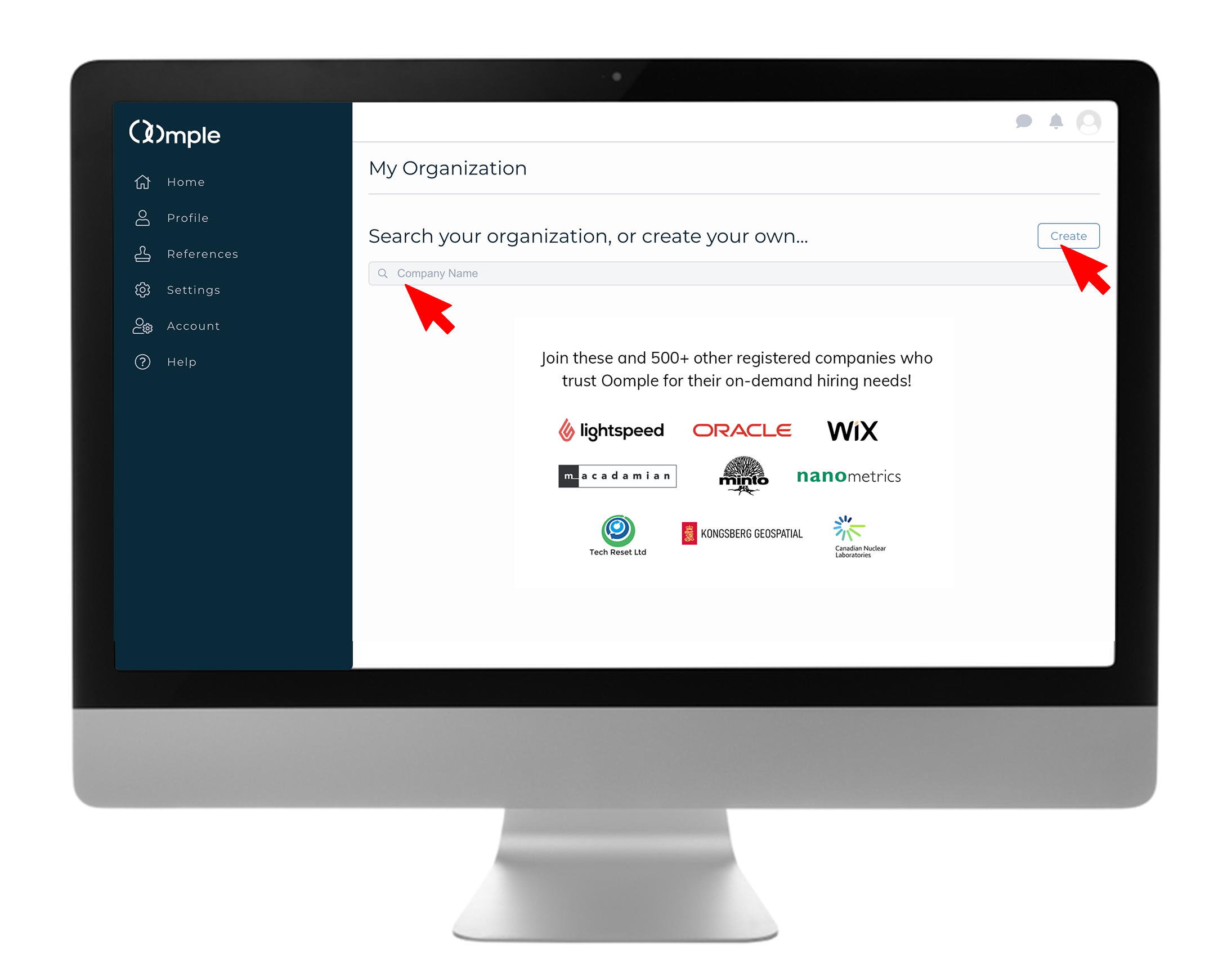 Now that you've created you've joined or created an Organization, you'll notice that your left menu tab has changed! You'll now have 2 new options:
1) My Organization: Where you can update the info and invite team members.
2) Requests: Where you input the information of the contract position you need (woohoo!).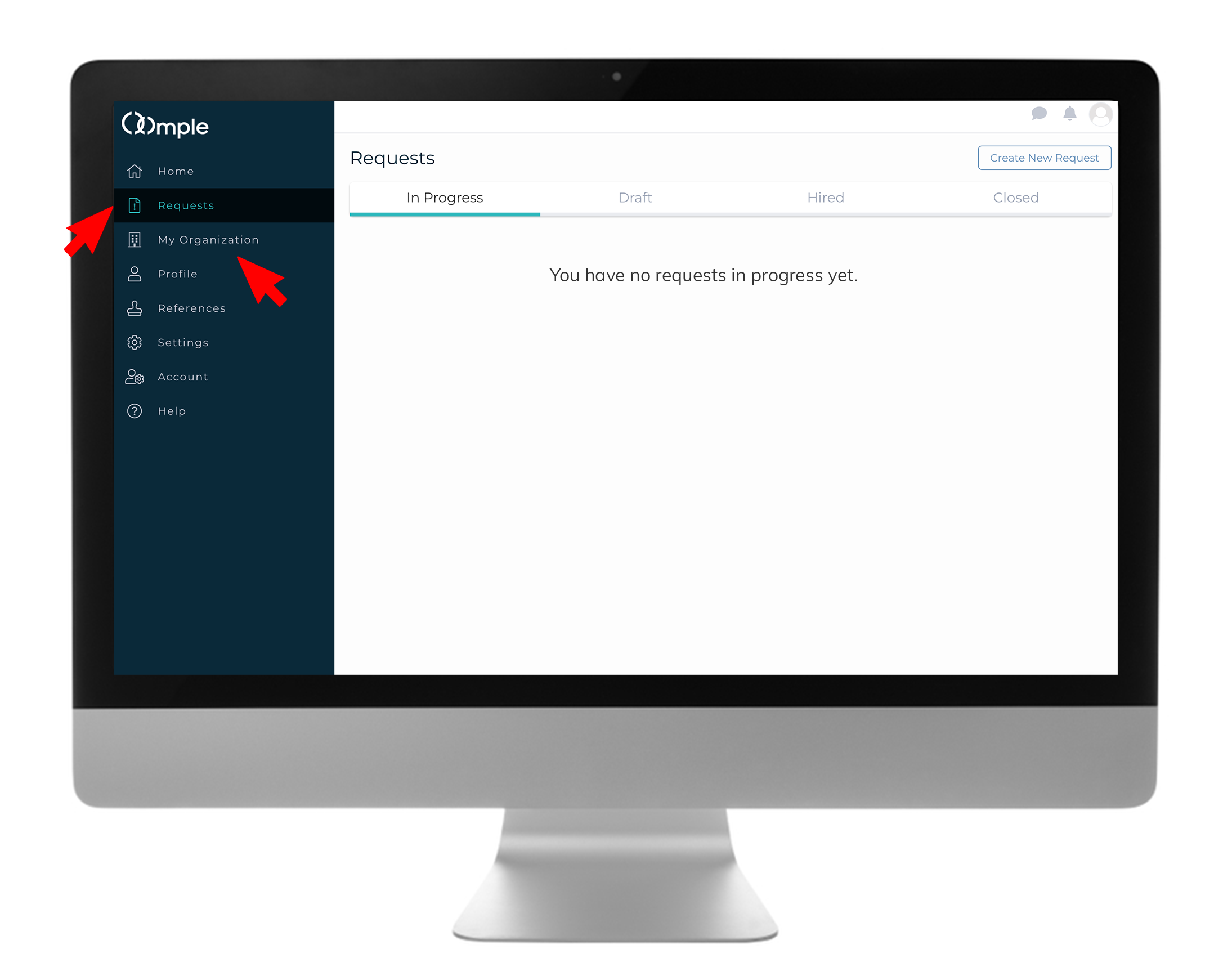 2. Create your Request
You've probably guessed it now (hey, we did say it was simple), click on the "Create New Request" to get the process started!
It takes only a few minutes to complete the questions. Our Ai then matches this data to the best-suited candidates. Then our success experts review the matches and send you the best fits.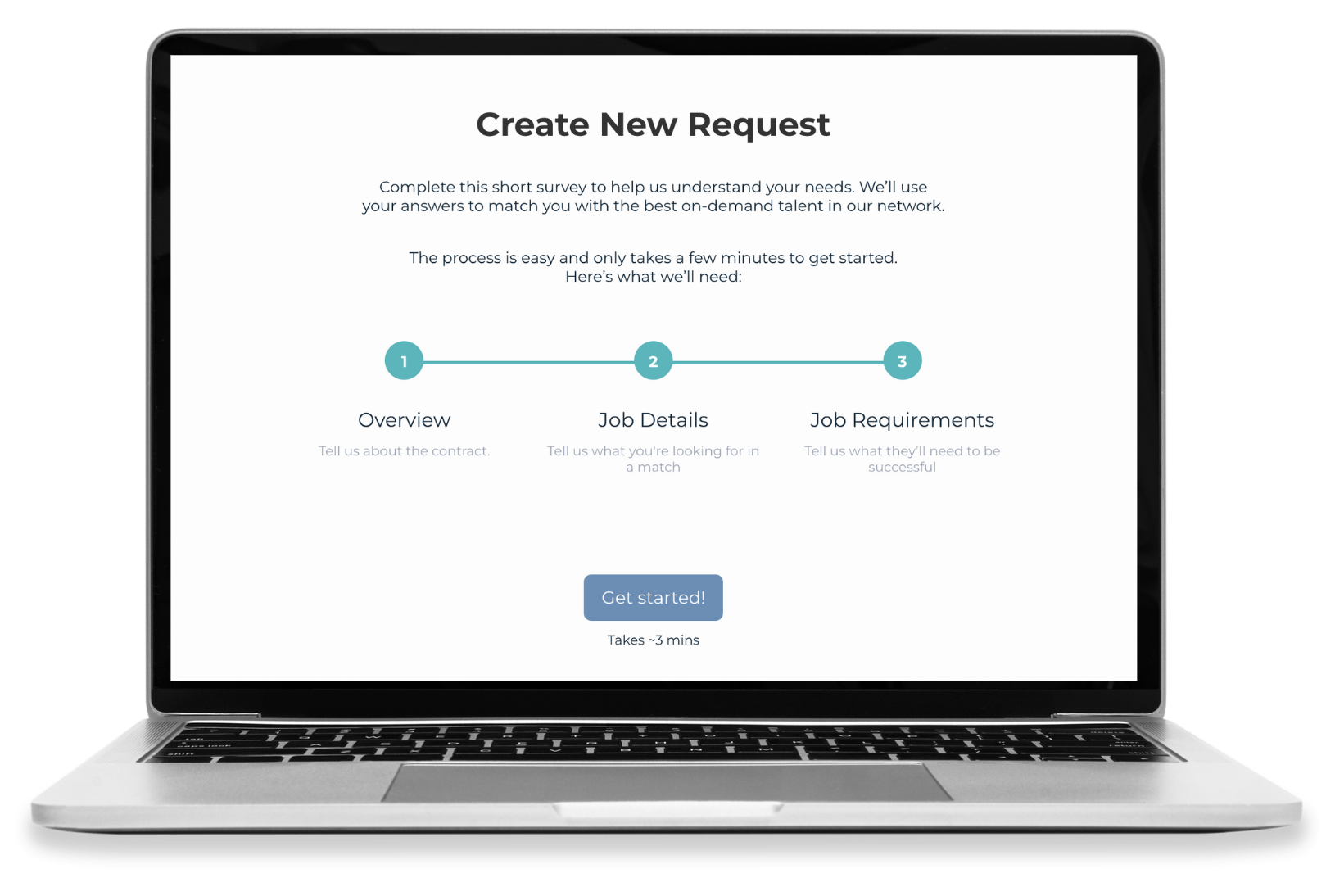 3. Review & Hire
As we mentioned, through our transparent process, you can now see all the background, experience, rate, and info on your talent matches. You'll be able to review them and select your favorites to move forward with and move to interview and hire!
You'll have visibility of where they are in the hiring process throughout the journey from match to hire to contract fulfillment. We take care of sorting out the financials and contracting as well. You'll be able to see and manage your on-demand professionals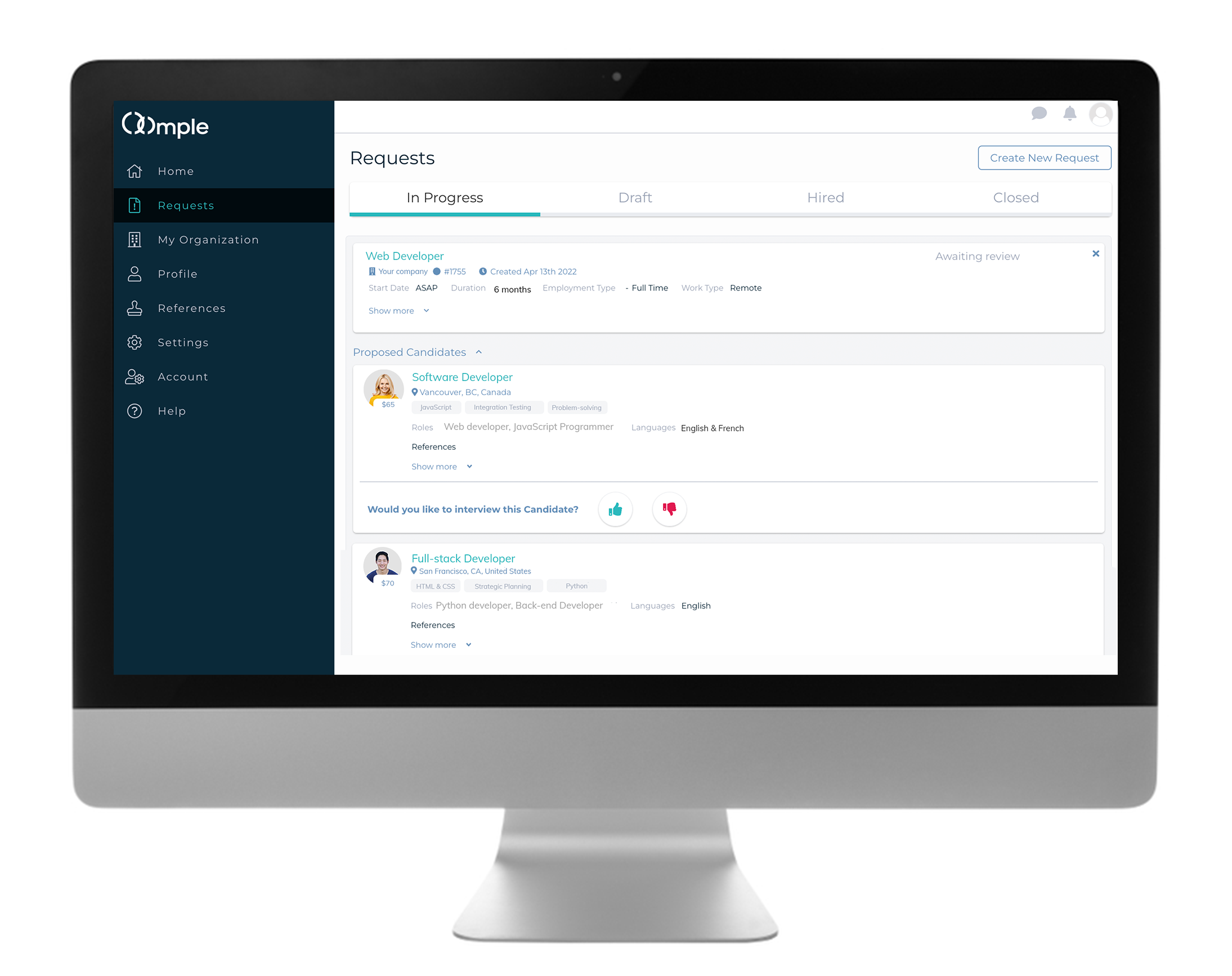 Questions?
Want to learn more, speak to an expert, or have questions? No problem, we're happy to support you. You can book a chat with us here.
Not sure about your hiring needs?
Unsure about who to hire for your upcoming project? Ain't no thang. Our team of experts can help you identify exactly what skills you'll need to achieve your project goals. You can book a consult for future needs and project planning with us so that you can stay ahead of your hiring needs.
Worried about trying a new hiring platform?
Not sure if you're ready to take the leap and move away from staffing agencies to a more innovative and efficient model? We've got you! With no money down (don't pay until you hire), lower service fees and a 14-day talent pilot period (with a full refund if not satisfied) - there's no risk in trying us out!