As we navigate the uncharted waters of remote work, entrepreneurial ventures, and the aftermath of a global pandemic, the importance of cultivating personal relationships, building a vibrant community, and maintaining a robust pipeline of clients cannot be overstated.
For those whose mission is to assemble exceptional teams (which should be everyone's key prerogative), here are the reasons why a tech-savvy approach to personal relationships in talent management is imperative right now.
The Power of Personal Relationships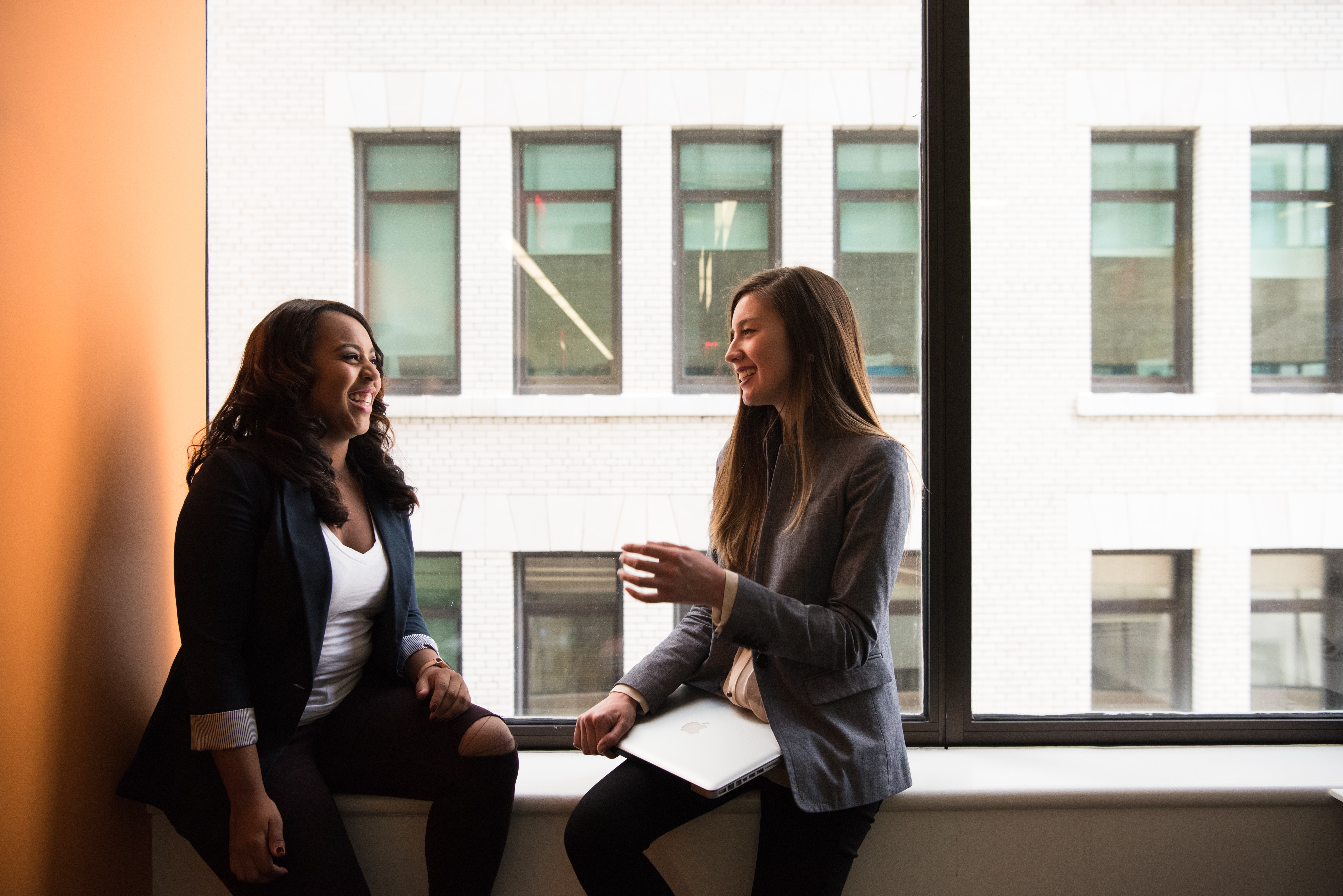 No matter what industry you're in, we know that personal relationships are the linchpin of success. Building and nurturing relationships with both candidates and clients is not merely a transactional endeavour; it's a strategic imperative. As tech-driven as the hiring process has become, the human touch remains indispensable.
"Oomple has played a crucial role in optimizing our recruitment processes, saving time, and ensuring that we attract top talent effectively," says Tam Nguyen, Senior Talent Recruiter at Orangutech. "Based on our positive experience, we would rate our likelihood of recommending Oomple to others as an 8 or 9 out of 10."
Watch this teaser video to get a sneak peek of Oomple Copilot's transformative features.


The Tech-Infused Pipeline
In the digital era, an efficient pipeline of clients and candidates is a tech-driven affair. CRM systems, AI-powered sourcing tools, and data analytics have revolutionized the way recruiters and agencies operate. However, these tools are most effective when they complement rather than replace the human touch.


Leveraging Oomple Copilot for Unprecedented Success
Oomple Copilot is a game-changer for your talent relationship management. It's not just a platform; it's a strategic ally that empowers recruiters, agencies, and HR professionals to elevate their craft.
Let's delve deeper into why Oomple Copilot's tech-savvy approach to personal relationships and community-building is indispensable for those who seek to thrive in this dynamic landscape.


Unlocking the Power of Personal Relationships





In recruiting, technology can be a formidable tool, but it's the human connections that truly make a difference," emphasizes Norm Daigle, CEO and co-founder of Oomple. The ability to forge meaningful relationships with clients and candidates alike is a superpower that leads to lasting partnerships and placements.


Oomple Copilot's Thriving Community




Recruitment isn't just about transactions; it's about being part of a thriving community that understands the nuances of the industry. Oomple Copilot's ascent among senior tech leaders underscores the significance of fostering this sense of belonging in the digital age.
At its core, the 'Personal Talent Relationship Platform' concept built into Oomple Copilot's exclusive community leverages the power of mutual growth, ensuring access to diverse perspectives, and increased psychological safety.
The Oomple Copilot community is a strategic asset, allowing companies to discover untapped talent, new relationships and accelerate their company's growth.
This dynamic community empowers leaders to harness collective intelligence, driving innovation and problem-solving beyond individual capabilities.


The Tech-Infused Pipeline of Success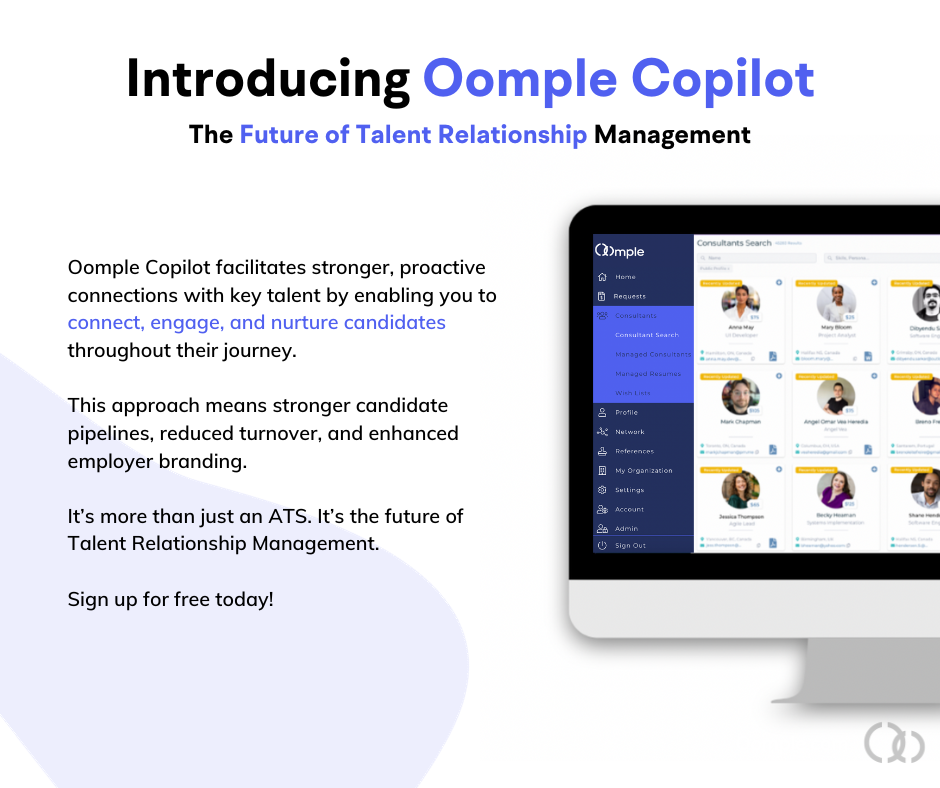 In the digital era, an efficient pipeline of clients and candidates is the lifeblood of success. Tech tools, such as CRM systems, AI-driven sourcing platforms, and data analytics, have revolutionized the recruitment process. However, these tools are most effective when integrated seamlessly with the human element.
We know that technology accelerates the identification process, but it's the human touch that transforms leads into lasting partnerships. Oomple Copilot understands this synergy, offering tech-savvy solutions that enhance the personal touch. Its platform seamlessly integrates with industry-leading tools, allowing recruiters to focus on what truly matters – building relationships and making exceptional placements.


Recruitment is levelling up with Copilot
Wondering what Copilot brings to the table?
With Copilot, you now have the power to control your subscription effortlessly, manage user permissions for your entire organization, and streamline onboarding for new team members. Centralized billing simplifies your financial operations, and a new dashboard offers you a panoramic view of your team's activities.
This change signifies more than just an upgrade; it signifies your freedom and flexibility. Oomple Copilot empowers you with control over your subscription, your organization's platform usage, and a comprehensive understanding of your team's activities.


A New Take on Recruitment
To be successful in today's talent space lies in embracing both the power of technology and the essence of human connection. Oomple Copilot offers not just a platform but a strategic framework that empowers professionals to excel in their roles. For those navigating the complexities of talent acquisition,
Oomple Copilot is the bridge between tech-driven efficiency and the enduring value of personal relationships and community. It's time to seize the future of recruitment with Oomple Copilot.

Ready to get started? Sign in to your personalized dashboard today.