We've Launched our New Website: Oomple!
Jan 26, 2021

6 min read

We're so excited to announce that we're launching Oomple!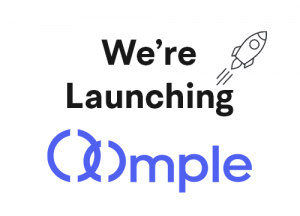 There have been many changes in the world lately and we understand that it's been an adjustment process for everyone. Most of us are working from home. Some have kids running around the house; others have their cat throwing up on their keyboard—weird times for sure. Needless to say, it's been a time of learning and adaption.
So, during this time of change, we've taken this opportunity to reflect on who we want to be moving forward. Also, we've gathered feedback from freelance professionals (consultants) and companies about our platform. We then put our heart and soul (with some laughs and tears) to grow and serve you better. And we're really happy about how far we've come.
We're grateful to have you join us along our journey as we launch Oomple!
Oomple connects freelance professionals and companies through our marketplace. And as you'll find out soon – we're also so much more than that.
What inspired this launch?
"We're turning the traditional staffing agency model inside out…" – Sarah Powers, Oomple VP Sales & Marketing.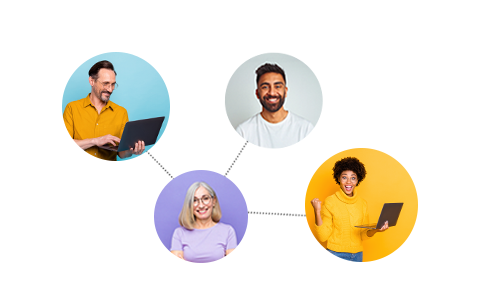 Our vision has always been to disrupt the current hiring agency model. We want to give companies and freelance professionals more control over their profiles and more transparency in their transactions. We've been evolving our platform for years – from our product AI technology to our profile and talent management tools. We've created a community where companies and freelancers can feel comfortable and confident engaging with one another. We're providing all the tools they need to hire or work efficiently while also reducing overall costs.
We're still the same awesome team, and we still have your best interest in mind – we've simply evolved our product and freelance professional marketplace to serve you better. Oomple is Splice with new updates that give it more… Oomph.
Oomple is now the first professional freelancer marketplace with Ai matching technology and a talent management system all in one place.
"We're changing how people hire and think about work."– Norm Daigle, Oomple CEO.
What does the new name and logo mean?
We chose the name Oomple because it's fun and creative, which represents who we are. Our team believes that there's room for fun within professional environments. At Oomple, we like to laugh and enjoy ourselves, so we want our brand to reflect that. We also want our users to have an enjoyable experience through our platform.
"We believe work-life balance should be Life-Work Balance and we want our platform to support that lifestyle." – Sarah Powers, Oomple VP Sales & Marketing.
Our logo represents the link between companies and freelance professionals and finding that perfect match. For years there's been a gap in the way recruiting is done. Agencies will leave Freelance professionals and companies in the dark when it comes to transactions and talent selection. With this model, it feels like agencies are the ones most benefiting from that transaction. That's why we're changing that by bridging the gap.
Bridging the gap symbolizes increasing transparency and empowering companies and freelancer professionals to find the right fit.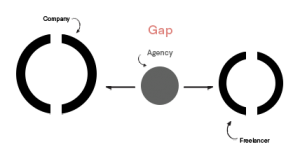 Like a Venn diagram, we focus on the overlap where the company's needs and the freelancer's skill set meet. This matching technique benefits both sides, which allows them to thrive together and ensures the best possible working relationship.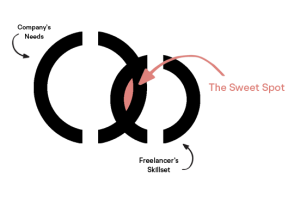 What can you expect from Oomple?
For Freelance Professionals:
Control & Visibility: You have complete control over your profile – you can make updates to your resume as needed and personalize it the way you want to attract companies to you.
Custom Rates: Choose your rates and have visibility over transactions.
Global Network: Connect to a network of great companies worldwide. Explore and search for companies or jobs that interest you.
Innovative Tech: Our AI technology will also match you to opportunities best suited for you.
Management: Manage your applications, see their live status and interact with companies – all in one place.
Work your way: Find remote or on-site work.
Remove the stress & be proactive: Manage upcoming projects and line up future contracts.
For Companies:
Customized profile & Marketing: Create your own company profile and have control over your brand image with a personalized description, culture portrayal, project or skillset needs.
Global Network: Access a global network of freelance professionals to fill your project needs on-demand. Search for candidates to fill demands when required.
Ai Matching Tech: Leverage our AI matching technology to be paired with suitable top experts for your project
Manage your team in one place: Communicate with your team, Connect all your team members to your company profile, communicate with them and work in harmony.
Transparency: You have visibility of freelancer rates and the transaction fees are much lower.
Project forecasting: See freelance professionals' availabilities to forecast your needs and budget better.
More tools to help you succeed: Use our personality matching, rating systems and our support team to help you grow and thrive.
Oomple Service Option: You can also work through Oomple Customer Success Agents and they'll take care of managing your profile, project needs and match you to top professionals.
You can expect that we'll constantly be listening to your feedback and continuing to innovate and bring you the best.
Soon you'll be able to find us at Oomple.com.
If you're already registered with us (awesome), your subscription won't be affected and you can log in to our new site with your same login credentials as before.
We'd love some feedback and if you have any questions – We've got you! Please feel free to send us an email at hello@Oomple.com we'd be happy to chat.