Should my Company go Remote?
Aug 17, 2020

9 min read

You've probably heard a lot about this lately on how many businesses and even some fortune 500 companies have decided to go completely – or at least partially remote.
Although freelance and remote work was already on the rise, there's no doubt that the pandemic has accelerated this change. In a way, it's been like an unplanned social experiment.
Many companies who were dilidalying – hesitant to embrace change and remote work, had no choice but to adopt this new work-from-home model when COVID struck rapidly. And many who were reluctant have been pleasantly surprised by the increased productivity and overall satisfaction from their team.
67% of companies expect working from home to be permanent or long-lasting.
Now, we're not saying that you should drop everything and hop on the remote work band-wagon tomorrow. We're just saying that this is a great time to re-evaluate your business model and policies and decide what will work best. Some companies will thrive with fully remote teams, others need to maintain face-to-face interaction, and some will find a perfect balance of both.
Here are some steps to take when deciding whether you should go remote (or partially remote) and how to overcome potential challenges.
You can also check out this webinar with more on the future of work and prepare your company for these changes.
1. Evaluate Your Business
First, take a step back and review your current business model and policies to decide if they're still relevant to this changing world. While the pandemic won't last forever (hopefully), technology advancements, a new digital customer user experience and expectations will. And so you'll have to decide if your current model will still be relevant in the coming years
89% of all companies have already adopted a digital-first business strategy or plan to do so.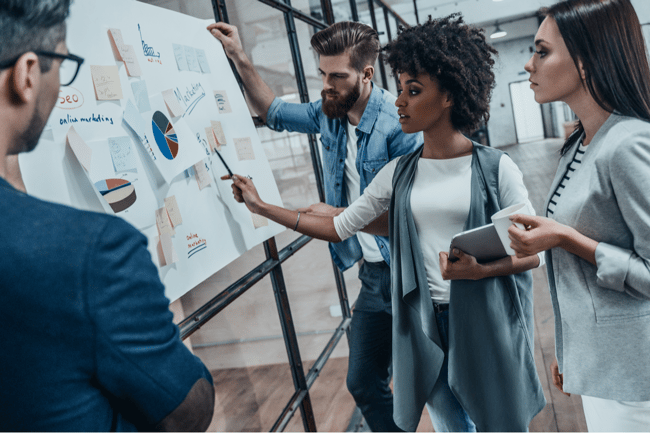 You can start by asking this. Is my company people-facing, or is it mostly digital?
Here's a bit of a plot twist to that question, because yes, even some typical people-facing businesses with storefronts, for example, are also becoming more digital. For example, most grocery stores now allow customers to do their groceries online and offer delivery or curbside pick-up. For example, Starbucks has taken a similar approach, as well. They've reduced their storefront real estate and size significantly. They've digitized and now depend more on their online platform, which lets customers order ahead through their app for pick-up or delivery.
Most companies who we're already forward-thinking and taking the digital route pre-pandemic were able to keep up with the changes. Others had to adapt quickly, and unfortunately, some weren't able to adjust and consequently fail.
If your business is mostly online already, that's great. Without diving in too deep, you must ensure that your user experience is forward-thinking (think Uber vs regular taxis) and that you're using platforms and technologies tools that will help you thrive (more on this later).
Now it's time to evaluate if your office space is necessary to keep your business going – or if it's time to scale down or go completely remote.
A lot of experts are predicting is a more flexible and agile work model and decreased office real estate.
2. Consider an Agile Model
What does this mean exactly? Agile companies operate with a smaller core team and outsource freelance professionals to help them with specific projects or fill in some skill gaps. Employees or freelancers also have more flexible schedules to work remotely multiple times a week or permanently (depending on their geographical location).
An agile team is a mix of employees and freelancers (Sometimes all freelance and can be remote or on-site) with unique expertise who work together and are responsible for a specific project. This type of team is beneficial for companies since they can hire freelance based on demand and project requirements.
3. Why Are Companies Going Remote?
If you're asking yourself: after social distancing is over, what's the point of staying remote? Here are some of the benefits and reasons why more companies are going remote (partially or entirely).
1) Access to a Larger Pool of Professionals to Choose From
Hiring remote freelancers means that you no longer have to employ local professionals or have to relocate people to bring them to the company. The world is your oyster – of talent. You can access to more skills and have more options as needed. The global workforce also allows for a diverse workforce with different experiences and ideas.
2) Lowers costs
Companies will save 20 to 30% on average when hiring a remote worker in comparison to a permanent employee. They reduce expenses on the workspace, office equipment and administrative fees.
32% of organizations are replacing full-time employees with contingent workers as a cost-saving measure.
3) Increases productivity
77% say they're more productive when working from home.
The flexibility of remote work means they can choose their work schedule to organize it to fit their most productive times and ergo and produce more quality work.
Stanford's study showed that remote workers were about 13% more productive than their traditional office colleagues.
4) Attracts New Hires and Increases Retention
Many freelancers and employees are looking for flexibility as a work perk when applying for jobs.
Remote work is also an increasingly desirable trait an employer can offer, with 57% of the workforce saying that the option to work remotely is their most preferable employment perk.
Allowing for remote work instills trust, satisfaction and loyalty which also increases worker retention.
74% of the workforce would prefer to quit a job for one that offers remote positions.
5) Workers are happier
Thanks to the flexibility of remote work, employees become more motivated and are bound to be more productive. High employee morale translates to less turnover, greater enthusiasm for work, and higher job satisfaction rates.
The flexibility provided by a remote work setting also brings another benefit: A happier, less stressful day-to-day and a better work-life balance. In a study by Owl Labs, many workers reported alleviated stress levels with even one day of work outside the office. 86% of respondents in the survey believe that working remotely reduces stress levels and improves health.

4. Take Action & Get the Right Tools for Success
Now, we know that remote work isn't all butterflies and sunshine. Some potential challenges will require some adjustments and the right tools to help the remote aspect of your company run smoothly. Here's how you can prepare for freelance remote hirings. You can also check out this article for more details on how to easily integrate freelance professionals into your team.
1) Define Your Company's Freelance Needs
Assess the current skill gaps in your company. If you're starting a new project, analyze what functions are required and expected to accomplish it. This analysis will help identify the skills you'll need from a remote freelancer.
2) Adjust Your Onboarding Strategy
Your onboarding strategy will be different in the way that it will be virtual. However, it should still be just as thorough and new remote onboard-ies, should have access to communicate to a designated trainer any time of the day as they would if they were in the office. That way, they can ask questions when needed to ensure they fully grasp their role requirements.
You'll also want to present your company goals, objectives, vision virtually and discuss expectations and deadlines. To make them feel part of the team, you should also plan introductory meetings with the rest of the group, especially with members they'll be working with closely.
3) Use Virtual Tools For Success
Start by getting all the virtual tools you may need to keep in touch with remote teams. These can include Slack groups, Zoom calls, email, text or any other communication method you see fit. You'll also want to schedule regular check-ins and project-specific meetings so that teams can stay on the same page with timelines, objectives, projects and potential roadblocks.
4) Hire From a Trustworthy Freelance Platform
You'll want to use a reputable hiring platform to verify your remote hire credibility and experience. You can trust Oomple's freelance marketplace to ensure you're hiring qualified talent. By posting on Oomple, you'll also have access to a vast network of freelance professionals. Access to a large and trustworthy network will allow you to cast a wide net and find the talent you need. You'll also have an all-in-one applicant management system to keep track of your remote team.
5) Take Steps to Maintain Company Culture
Some companies will worry about maintaining or building a positive company culture when they operate with remote freelancers. Staying in touch and planning virtual activities like game nights or team lunches will help team members get to know each other on a more personal level and have that bond. This connection from colleagues to friends will improve morale, job satisfaction and have workers feeling more motivated. You can check out our other blog with more tips on how to maintain a positive company culture with remote teams