Welcome, Aaron - Oomple is growing and so is our team!
Apr 12, 2021

3 min read

Oomple is continuously growing and you know what that means… So is our team! We're so excited to share with you our newest Success Team Member of 2021, Aaron Baretto!
Aaron loves working with people and has had an array of experiences in sales and customer service roles. We know he's going to be a great addition to the Oomple fam and that he will bring lots of enthusiasm and valuable recruiting skills to the team. We want you to get to know Aaron a bit better, so we've asked our remote onboard-y a few questions. Check out what he had to say: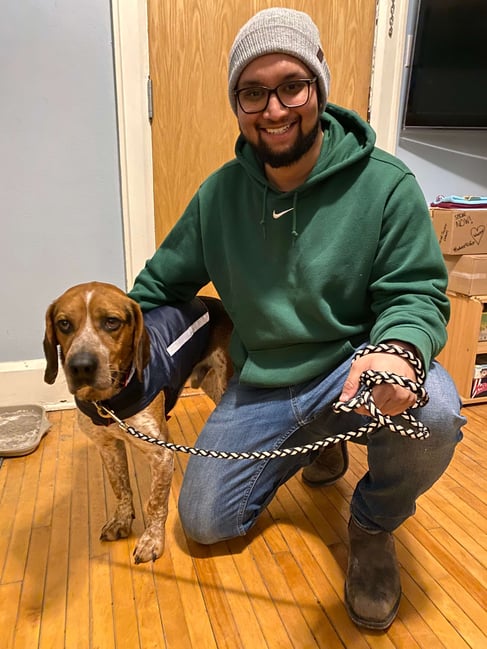 What drew you to joining Oomple?
"The idea of working at a start-up company really enticed me. After hearing more about the roadmap for the future, I loved the ideas and where Oomple was headed. I love being challenged and dealing with new problems and I think that every day will be something new and that really excites me."
What led you to work in Talent Acquisition?
"After working in many different customer service and sales roles, I loved the idea of a new challenge. I love being able to talk to different professionals and figuring out how to help them achieve their career goals. Recruiting encompasses everything I love, meeting new people, customer service, thinking outside of the box, and a little bit of sales."
Despite a year of quarantine, what has been your favorite memory of 2020/2021?
"My favourite memory so far of 2020/2021 has to be rescuing a 2-year-old beagle/hound, Bruno, and giving him a loving home. Seeing him become more comfortable and happy has been the best experience."
What's something fun or unique that people might not know about you?
"Something fun that not many people know about me is that I can play 5 different musical instruments. I am able to play the piano, saxophone, guitar, drums, and ukulele. Since coming to Ottawa for university, I haven't been able to keep up, but once I am able to get my own place I would love to create a home recording studio."
If you could snap your fingers and become an expert in something, what would it be?
"I would love to be an expert in IT security. After working a couple of IT security roles in the past and speaking to professionals in that field, I got very interested in that realm as it is always evolving to keep up with the different threats out there."
What do you do to unwind after a busy day at the (home) office?
After a busy day, my go-to way to unwind is to take my dog for a walk and then watch a couple of episodes of something (currently I'm watching Criminal Minds).
What quote do you live by?
"Whenever I'm about to do something, I think, 'Would an idiot do that?' and if they would, I do not do that thing." — Dwight Schrute
"I am a huge Office fan, so you will probably hear more quotes from me randomly thrown in conversation."
You can check out Aaron's profile on our Oomple platform and connect with him on LinkedIn.