Welcome Jess! Our New Talent Acquisition Specialist
May 11, 2020

2 min read

Meet Jess!
Our Oomple family is growing yet again and we couldn't be happier to introduce you to … Drumroll, please … Jessica Endress, our new Talent Acquisition Specialist and all-around awesome human. She's also our first remote onboard-y. This past week has been filled with virtual team lunches, meetings and hilarious ice-breaker games. She's even made an effort to wear sweet turtle necks and actual trousers while most of us are at home in our sweats. Kudos to you.
We feel like we know Jess so well already, and we want you to get to know her too. So we asked her a few fun questions to give you a little sneak peek into what she's is bringing to the table.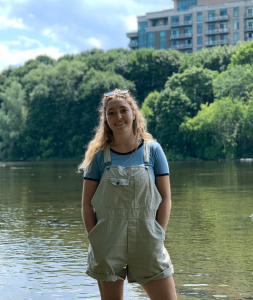 How did you get into talent acquisition?
"I come from a History background, but when I was considering Coops for my degree, I decided I wanted to branch out and try something completely outside of my predetermined field. I did my Coop in Talent Acquisition and found it allows me to delve into interests that History typically doesn't. I love connecting with people, and I enjoy the research aspect that's also prevalent in TA."
What excites you about joining Oomple?
"I really believe in creating transparency between companies and freelancers, and it's refreshing to be able to bring personality and human connection to talent acquisition. I'm excited to be part of building out a platform that eliminates friction and barriers in the freelance industry."
What's something unique that people might not know about you?
"I have the hobbies of a retiree. I have always been very crafty, and I absolutely love gardening. I love anything that is creative and hands-on!"
Since we're currently in quarantine, what's your top Netflix recommendation and why?
"Brooklyn99 is my solid go-to, only because Parks and Recreation isn't on Netflix. I love comedies. My guilty pleasure has been Elite though, it's a Spanish teen murder mystery drama, which is not my typical genre, but I've been really enjoying it."
In one word, how would you describe the way you work?
"One word for my work style would be "go-getter."
In one colour, how would you describe your personality?
"I settled on hot pink after a lot of deliberation with my friends. I can be intense, but I'm also loud and bright. :)"
What quote do you live by?
"Practice doesn't make perfect. There's no such thing as perfect. Repetition is the mother of all skills." – My dad
You can check out Jess's profile on the Oom platform and connect with her on Linkedin.