We Keep Growing! Welcome, Melissa to the Team!
Oct 30, 2018

2 min read

Meet Melissa!
We are very happy to announce that our team has expanded, with the hire of our Talent Acquisition, Melissa Scott, who handles everything from consultant engagement to recruitment research. We sat down with Mel to learn more about her background, guilty pleasures, and more below!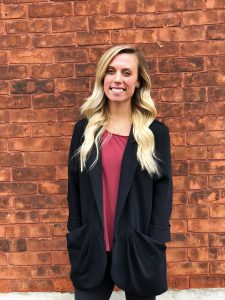 Melissa is known for her go-to attitude and genuine passion for her job, she is always bringing smiles to the faces of friends, families and team members alike. She comes to Oomple armed with a degree in Sociology from Carleton University and a post-grad certificate in Marketing at Algonquin College, a history of managing and coordinating teams, and a sassy personality that fits in perfectly with her fellow Oomple team. Her love of people has made her the perfect fit for the recruitment life. She is not afraid to start a conversation with anyone and is able to suss out people's strengths and concerns with ease. Armed with her marketing background and exceptional people skills, she held jobs at reputable companies such as Lululemon and REMAX successfully for over three years in Ottawa before joining the team here at Oomple. These experiences enable her to realize how important it is to have the right talent matched with a company or brand.
I had the pleasure of training Melissa during her first week at Oomple. I had time to show her around the office, learn the Oomple, and the life cycle of recruitment. All training aside, here's a glimpse of the interview I had with her and learned a little more about who Mel is.
Well, Mel, the first week is done! What are you most excited about joining Oomple?
I'm excited about working with a growing company who values communication and transparency from every side of the business.
Ugh, October weather! Rainy and cold. What is your favourite way to spend a rainy Sunday afternoon?
Keeping cozy with my dog Ollie watching Harry Potter
As you can see here at Oomple, we like our office snacks. What's your guilty pleasure:
Miss Vickie's – Salt & Vinegar Chips
Alter ego?
Surfer girl. I love being in the sun and on the beach. It's my happy place!
Now a new recruiter to Oomple, give 1 word that describes you.
Versatile